A few days ago, according to the "Announcement of the Shenzhen Packaging Industry Association's Influential Enterprises and Outstanding Contribution Entrepreneurs of the Shenzhen Packaging Industry in 2019" announced by the Shenzhen Packaging Industry Association, Hanway has stood out from many well-known printing companies and won the title of "Shenzhen Packaging Industry Influential Enterprise in 2019" ,which is fully affirmed the important position and extensive influence of Hanway in the packaging industry.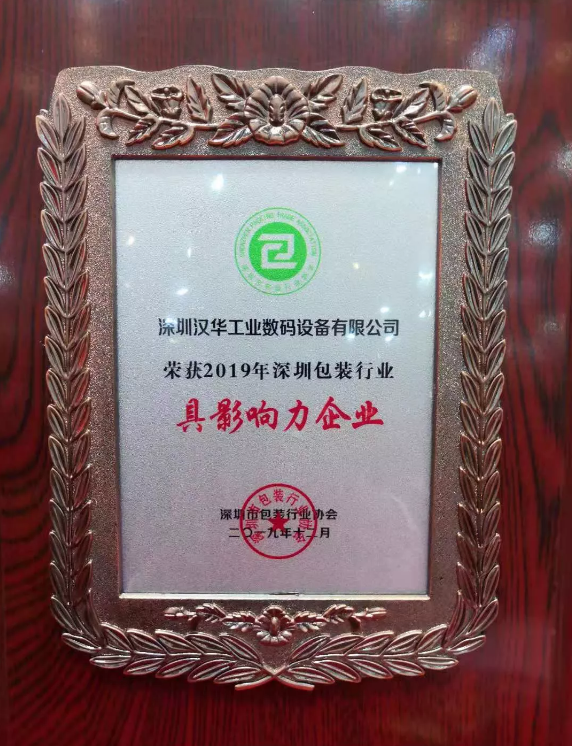 The development of digital packaging printing technology has created unprecedented close-to-consumer opportunities for brands. From image quality of business models, digital printing is completely subverted the packaging printing industry. According to statistics, after several years of rapid development, the total size of China's packaging industry has ranked among one the world's largest packaging countries, ranking second in the world. China has become the fastest development, the largest scale and the most potential country in the world's packaging industry.
Digitalization is bound to be the future of the corrugated packaging industry. In China, some forward-thinking printing equipment manufacturers have felt the advent of corrugated packaging digital printing era is coming and have joined the R & D team of corrugated packaging inkjet printing equipment.
Hanway, as a leader in the development and manufacture of Single-Pass digital equipment under the Hanglory Group, based on the actual printing and packaging, has intensified its efforts in digital printing technology and related industries. It has taken the lead in mastering the Single Pass technology with industrial production capacity for China. The core technology is committed to promoting the development of digital inkjet technology in the corrugated and dye sublimation industries and providing industry-leading Single Pass equipment manufacturing and industrial application solutions for upgrading the packaging industry.